Salem, OR: Holiday Market > December 8 — 10, 2017
December 8 @ 12:00 pm

-

December 10 @ 5:00 pm

$3
Event Navigation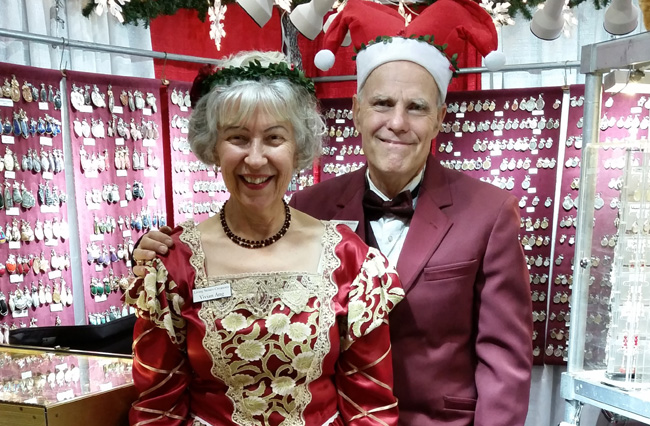 Christmas Garland Decks the Hall at Holiday Market
The Salem Saturday Market Holiday Market at the Oregon State Fairgrounds brings all the excitement of Christmas to Salem (http://www.salemsaturdaymarket.com).   We have participated in this event for 13 years; in fact, this was the first show we ever exhibited in.  Furthermore, we have always occupied the same space close to the front doors of the Jackman – Long Building.  Last year the market expanded to fill the adjacent Columbia Hall with additional vendors.  In addition, another big improvement is coming for  2017 —  The Holiday Market will include Friday, December 8th as well as Saturday and Sunday, December 9th and 10th.  Santa will have his own reception area, four stages will host live music and every booth will be brimming with Christmas finery. Undoubtedly, this is the largest and most festive Christmas hand-made marketplace south of Portland.
A Special Meeting Place for Friends Old and New
We joyfully greet so many of our friends over this festive weekend.  What a joy to talk to so many Saturday Market friends we see only this time of year.  We always pull out all the stops to make this the most elaborate booth set-up we do all year.  Vivian wears her red Victorian gown seeming to float around the booth.  A few years back a lady handed Vivian a new born baby for a photo with "Mrs. Claus".  We remember other little ones we first met at the Market and now these same young people are picking out their own jewelry.
The Holiday Market is a Milepost on our Creative Journey
Thirteen years ago we remember when setting up our display at the State Fairgrounds seemed like a giant leap of faith.  This year we sold our jewelry at our first two art show in Arizona.  We now exhibit in five western states — thank you Salem Saturday Market Holiday Market!