Bellevue, WA: 6th Street Fair > July 28 — 30, 2017
July 28 @ 10:00 am

-

July 30 @ 6:00 pm

Free
6th Street Fair — One of Three Concurrent Art Venues
Bellevue, WA hosts one of the largest collection of arts and crafts vendors in the Northwest over the last weekend in August. Indeed, only Folklife comes close   To begin with, The Bellevue Art Museum (BAM) sponsors the anchor event of the weekend.  Moreover, the BAM show is literally housed in the shopping mall parking structure. Undoubtedly, the BAM  show features the "high end" of art offerings — lots of diamonds and high karat gold.  We apply each year but have not yet made the grade.  Concurrently, second venue,the Coop Art  Show, sets up in the Cost Plus parking lot. Uniquely, the Coop show gathers a closely knit group of like minded artists.  Lastly, the 6th Street Fair lines pedestrian malls crossing the downtown (http://www.bellevuedowntown.com).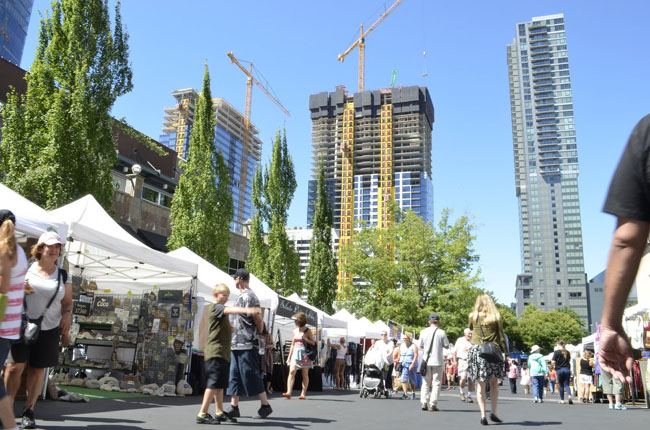 Bellevue Downtown Association hosts 6th St.
The Bellevue Downtown Association organizes the 6th Street Fair.  What an ideal venue for such a large gathering of artists!  In fact, the city of 134,000 ranks as one of the most desirable places to live in the nation (http://livability.com).  Notably, foreign born and non-Caucasian make up 40% of the population.  In addition, 30% speak more than one of the 50 languages represented.  Residents enjoy superlative outdoor recreation opportunities and cultural amenities.  For example, over 160 restaurants grace the city.  Certainly the headquarters of Microsoft partly accounts for such diversity.
The 6th Street Fair fills a unique niche
The  Downtown Association sponsors a half dozen cultural festivals each year.  In particular, the 2017 6th Street Fair will showcase the talents of 108 artists;  37 jewelers alone will display their handiwork.  Significantly, these artists will travel from 9 states and one Canadian province to set-up on 6th Street.  This "city in a park" blends skyscraper townhouses and open space.  As a result, residents enjoy the freshness of art and the creative vibe of the art scene.  Please, come visit us in Space B13 this July 28th through 30th.